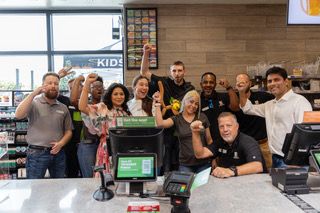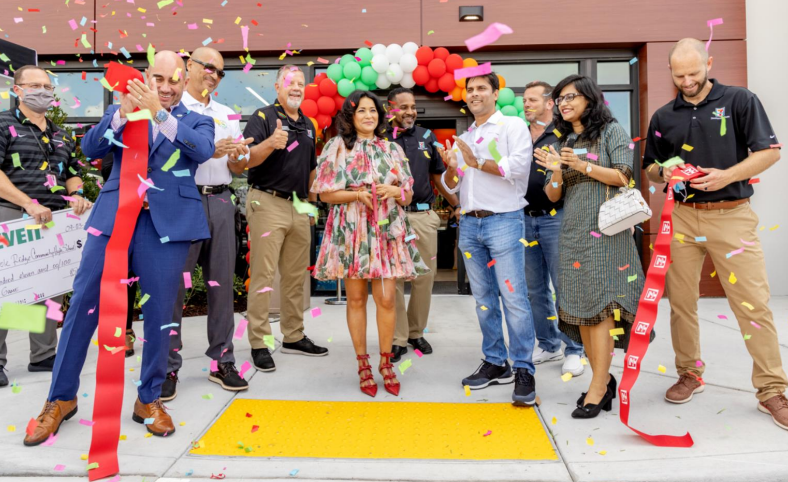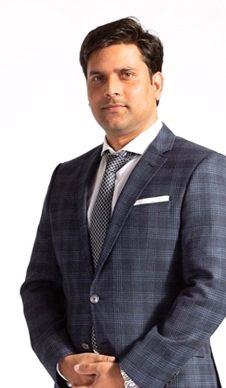 Binod Chaudhary
Chief Executive Officer / Principal
Binod Chaudhary is the co-founder and visionary leader of CPG who also manages all facets of property acquisition, business development, project cost analysis and project coordination. He has been involved in the C-store and petroleum industry since college, and has been creatively developing new ways to improve efficiency and provide tangible customer benefits. His vision is to combine a boutique retail and dining experience that emphasizes accessibility without sacrificing quality. Chaudhary ventured into real estate to develop Class-A convenience stores. Due to the lack of innovation in this industry, he saw the untapped potential in the market and an opportunity to create a new generation of fueling facilities, improve the overall operating system and redefine convenience. His effective leadership skills and experience make him a standout in the industry and in the community. Chaudhary attended college at Lynn University in Boca Raton, Florida.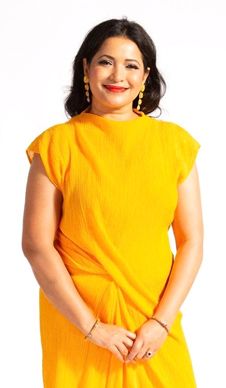 Dilara Chaudhary
Chairman / Principal
Dilara Chaudhary is a co-founder of CPG who is driven by her entrepreneurial instincts and operational excellence. She began her career in the petroleum industry in her 20s as a dealer for Amoco Petroleum while simultaneously working in the fashion industry. She purchased her first Amoco location in 1993, but was not the landowner. Realizing that this was stifling her store's profitability, Chaudhary sold this location and bought three more, but this time, with land included. As a result of her business acumen, she expanded to six Amoco locations, which enabled her to start a hotel business in 2000. She bought a Choice Hotels property and sold it for a profit after a few years of ownership. While managing the hotel, Chaudhary began development of petroleum locations.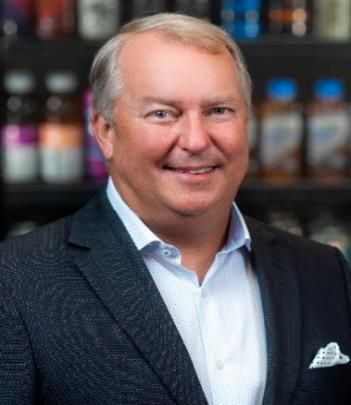 Jim Summers
President / Chief Operating Officer
Jim Summers has more than three decades of experience in convenience retail operations, wholesale/retail fuel, big box retail and the rental industry. Immediately prior to going Chaudhary Petroleum Group, he served as Senior Vice President of Franchise Operations for 7-Eleven, Inc. In that role, he was responsible for the growth and profitability of more than 6,800 franchise stores.
Prior to being promoted to Senior Vice President, Summers served as Vice President of Operations for the SouthEast Zone, 7-Eleven's highest-volume zone. He was responsible for the success of more than 1,300 franchise stores, and approved new store development and site selection. Summers started with 7-Eleven in 1990 operating individual stores but was soon promoted to Field Consultant, Market Manager and Fresh Foods Category Manager. He and his team were involved in the development of food products that were manufactured and delivered through the 7-Eleven proprietary commissary and logistics systems for 5,800 stores.
Summers' career at 7-Eleven spanned a total of 22 years. After the first 12 years, he accepted an opportunity to become Director of Tool Rental for Home Depot, the largest tool rental business in North America, with 1,200 locations, producing revenues over $1 Billion annually. While at Home Depot, he was able to increase year-over-year sales in one of the most challenging business cycles in U.S. history by expanding the selection of tools used by professional customers in an exclusive partnership with C.P.E.
After that experience, Jim was tapped to lead a start-up convenient store business, Mid-Atlantic Convenience Stores, which became the largest marketer for Exxon Mobil in North America. As President and Chief Operating Officer, he was responsible for all company operations. He oversaw 300 stores and a transportation business that delivered 600 million gallons of fuel per year. After helping the company get established, he returned to 7-Eleven as Vice President of Operations.
As President and COO of Chaudhary Petroleum Group, Jim will be responsible for executing on the company's strategic plans by establishing standard operating procedures and systems that will enable future growth plans that will include acquisitions, development and improving the current portfolio.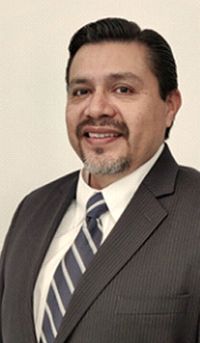 Omar Jimenez
Vice-President of Operations
Before joining CPG, Jimenez was the Franchise Market Director of Wendy's Corporation in Maryland. During his time at Wendy's, he was responsible for the operations and management of 162 stores in a territory that encompassed Maryland, Washington DC, and Virginia. Jimenez has extensive food service, restaurant, and retail operations experience. He started his career with YUM! Brands U.S. division as a team member in 1987 and worked his way up to become the Branding Market Coach for KFC, Taco Bell, A&W, Long John Silvers, and PH. His dedication led him to grow even further within the company by expanding his territories to YUM! Restaurants International, Latin America & Caribbean. During his time in Latin America & Caribbean, he led the Operations for the KFC Market entry in Honduras, El Salvador, Brazil and Guyana. Jimenez also led the Taco Bell Market entry into Panama and Colombia. In 2016 Jimenez joined 7-Eleven, Inc as the Market Manager to cover a region from North Ft. Lauderdale to Ft. Pierce and Port St Lucie. His responsibility was to oversee 110 franchise and corporate store operations and management. Jimenez received his Bachelor of Science from the University of Phoenix. He is also certified in several internal YUM! University courses: Achieving Breakthrough Results, Finance College, Leading Franchise Restaurants, Development College, Marketing College, Global Franchise Partnering College, Operations College.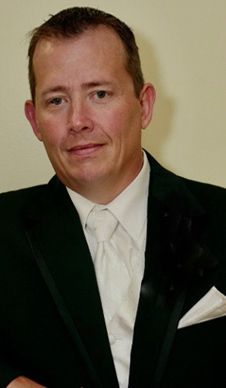 Patrick Casey
District Manager
Patrick Casey is a results-driving manager who leverages his background to explore ways to improve cost reduction and gross profit at every unit. Before joining CPG, Casey was the Franchise Consultant for 7-Eleven Corporation in the Ft Lauderdale market. Casey was responsible for helping franchisees maximize their sales and gross profit potential. During his time with 7-Eleven, he was the lead Franchise Consultant for the beverage category and sales plans implementation. Casey has extensive restaurant and retail operations experience with more than 25 years in management roles. He started his career serving tables during college and quickly received promotions due to his hard work and dedication. Casey has worked with Dave and Busters, Universal Studios, Ruby Tuesday and Red Robin. He received his Bachelor of Science from the University of Central Florida.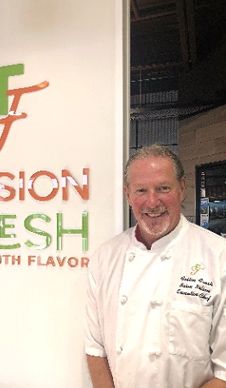 Brian Nelson
Executive Chef at Fusion Market.
Prior to joining CPG in May 2022, Nelson worked at iPic Theater as a corporate chef responsible for stores along the East Coast from Miami to Manhattan. He started his career in food service at Houston's in 1987 as a line cook, and within a year, he was promoted to kitchen manager where he worked at his craft for 5 years. Nelson joined Cheesecake Factory as the Executive Kitchen Manager managing food and labor costs while sales soared to $14 million a year. Nelson moved to Abe and Louie's Prime Steakhouse as Executive Chef working for many years as a corporate trainer and menu developer for Back Bay Restaurant Group. Chef Nelson is responsible for Fusion Fresh Market's food innovation, financial results and delivering the brand's promise of quality and consistency.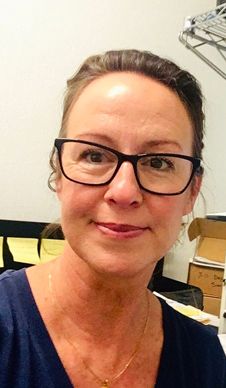 Laura Mulens
Executive Assistant / Office Manager
Mulens has been with the company since August 2021. Her primary responsibilities include financial and executive administrative assistance spanning all aspects of the business along with managing human resources and site fuel transactions. Prior to joining CPG, Mulens worked at length for a disability insurance law firm as a paralegal, financial assistant, office manager and property manager. Mulens is a native Floridian who attended the University of Florida and Florida International University where she studied Health and Nutrition Sciences. Mulens provides high-level administrative support to the executives in the organization.